Minister launches health initiative in Rotorua
(Rotorua Daily Post) Working with early childhood centres and schools to get healthy food options in tuck shops and encouraging workplaces to have healthy vending machines and catering options are some of the first targets of Healthy Families Rotorua.
The initiative was launched at Rotorua Primary School yesterday by Health Minister Jonathan Coleman in a bid to bring people together in a united effort to prevent chronic disease in Rotorua.
Over the next four years the government will invest $2.58 million in Healthy Families Rotorua, with Te Arawa Whanau Ora Collective the lead provider supported by Kowhai Health Associates.
Healthy Families Rotorua manager Leanne Morehu said the prevention team would be working with key individuals and organisations to identify, design and implement changes in local schools, workplaces and communities to help people make healthier choices and live healthier lives.
The four focus areas were around healthy food, increasing physical activity, smoking cessation and drinking alcohol only in moderation.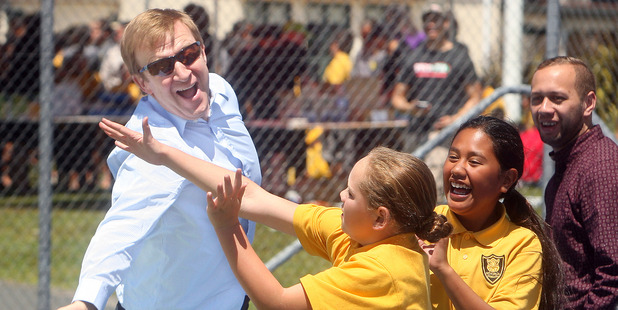 She said the goal was for early childhood centres, schools, workplaces, food outlets, sports clubs, marae, businesses, places of worship, local governments and health professionals to all play their part in supporting families and communities to eat well, be physically active, smoke-free and to only drink alcohol in moderation.
Healthy Families Rotorua is about thinking bigger, driving innovation and supporting good health in the places where people spend their time."
"By working collaboratively with local leaders to influence transformational change in our communities, we can slow the growth of obesity and chronic diseases like diabetes, cardiovascular disease and cancer."
Ms Morehu said it was about changing habits to benefit future generations.
"It's both exciting and daunting."
Dr Coleman said the initiative challenged communities to think differently about how to address the underlying causes of poor health at a local level.